Clifton Strengths Training – Anchor Your Business To Your Strengths (Perth)
June 27, 2021 @ 10:00 am

-

2:00 pm

$AUS35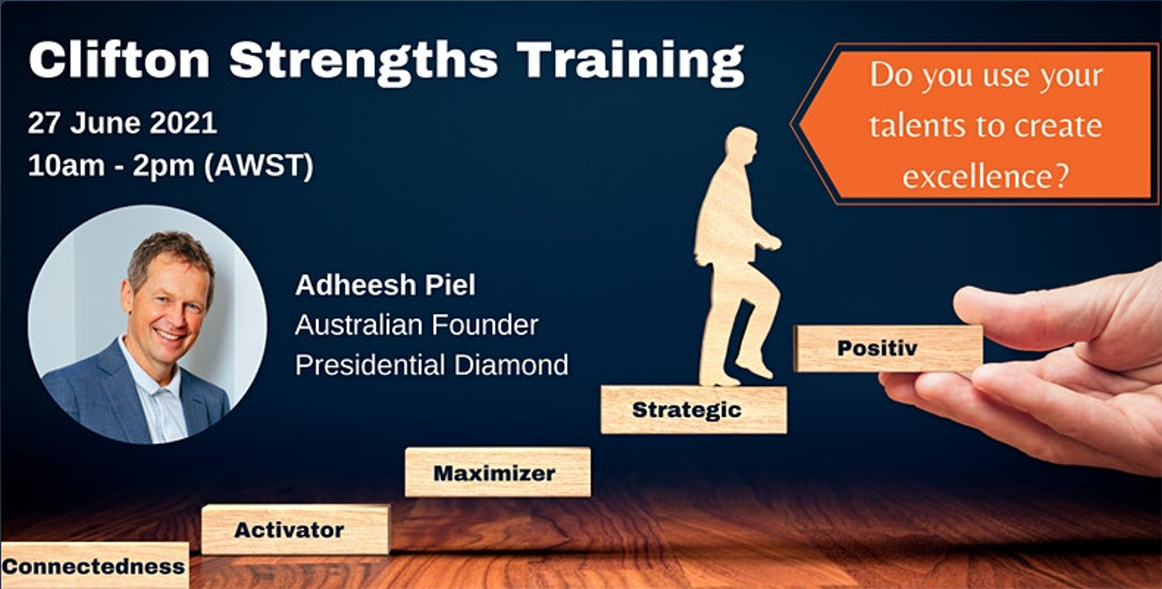 Learn how you can use your strengths to get better results executing the PIPES and taking your business to the next level.
About this event
INCLUDED in Ticket:
CliftonStrengths Discovery Pack (worth $69):
Participant Workbook
Resource Guide
CliftenStrengths Themes Hard Copy
Discovery Cards
Is this Strengths Training is for you?
Are you worried you don't have what it takes to be successful in doTERRA?
Do you want to dive deeper into your strengths, understand yourself better and identify blind spots?
Do you want to efficiently manage your time, get better results executing the PIPES and achieve outstanding results in your business?
During 4-hour training, we will teach you how to dive deeper exploring and understanding your own strengths.
It's a compelling exercise to discover your strengths. I believe that the world needs your unique gifts and talents today more than ever. Every single one of us is blessed with talents and abilities unique to who we are. Distinctive gifts that just want to be unwrapped.
It's all about YOU. YOUR beliefs, YOUR values, YOUR desires, YOUR business.
Join us for our 4-hour training full of education and inspiration and let us show you how you can use your strengths to turn your doTERRA business into a successful venture.
We will guide you from feeling overwhelmed, confused, and stressed to understanding yourself in a way you never have before. You will discover your unique strengths and talents, understand why you do the things the way you do, identify what thrives you, and what drains your energy.
Besides this, you will learn how to strategically use these strengths in your business. How to utilise them to find the right sharers and builders, get better results executing the PIPES as well as motivate and support your team. This event will inspire and equip you with the necessary tools to get better results in your professional life with more ease and joy.
Used in the right way, your strengths can be powerful forces on the way to success. They can empower you to take your life and business to the next level.