Here are our top 4 healthy gift ideas for your mum
This mothers' day, skip the flowers and chocolates. Give your mum something she really needs, the gift of good health. No, you don't have to buy her a gym membership. There are many other great things you can do to give your mom a boost in terms of her physical and mental well-being. Most moms will truly appreciate that your Mother's Day gift is aimed at keeping her happy, healthy, and in your life for as long as possible.
Womens Formula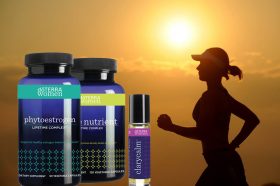 I loved using all three of these products on a daily basis during peri-menopause and menopause. As hormonal balances they made those rocky days feel a little bit more at ease and brought a little bit more zen into my day (and Adheesh's life). The Clary Calm I rolled onto my abdomen pre, during and post menstruation in the early days for support. In the later part of the transitional process of menopause I tended to roll the oil along my throat (double whammy for the hormones and smells great too).This kit includes Clary Calm Monthly Blend for Women - a proprietary blend of essential oils that provides a soothing and calming effect during a woman's menstrual cycle and during menopause. Bone Nutrient Lifetime Complex - a blend of vitamins and minerals that are important for bone health in women in their teen years through their menopausal years. Phytoestrogen Lifetime Complex - a blend of natural plant extracts that support hormone balance throughout the different phases of a woman's life.
30 Day Cleanse & Restore
In today's fast paced lifestyle and over consumption of processed food it has never been more important to help mum keep her sanity. This kit is a beautiful gift for your mum to support her as she juggles the many balls of her life to maintain balance and keep her energy at optimum levels. The beauty of this kit is it is a gentle 30 day cleanse that mum can incorporate in her busy lifestyle without too much interruption.
Active Mum
An active mum is a happy mum. But an injured mum is a mum you don't want to be around. Its painful!!!! Ice Blue is a first aid must in every mum's home if she loves the relief of suffering the natural way.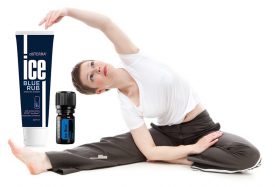 The Ice Blue essential oil blend/formula can be applied topically to provide a soothing and cooling sensation before and after yoga and exercise. It can be applied topically to soothe muscles and relax the body after all forms of exercise and strenuous activity. Does your mum have a green thumb and a love for gardening? She can give her body the relaxation it needs after a fun day of pruning and planting by applying Ice Blue essential oil blend to her hands and feet after gardening. This application will help relax her muscles and prepare them for the next gardening adventure. Connect with your mum and give her a treat she is sure to enjoy? Next time you're with her, give her a hand massage with the Ice Blue essential oil blend. The soothing effect of Ice Blue oil will help relax her hands. Ice Blue - powerful essential oil blend formulated to soothe and cool, doTERRA Ice Blue serves as an enriching blend of oils perfect for a massage after a long day or an intense workout. Ice Blue Rub - topical cream formulated with Ice Blue Soothing Blend essential oils, natural plant extracts, and additional helpful ingredients that provides a comforting sensation of cooling and warmth to problem areas. Ice Blue Roll On - 10ml roll on bottle can be used throughout the day to soothe and cool, Ice Blue serves as an enriching blend of oils perfect for a massage after a long day or an intense workout.
Natural Beauty Verage Kit
An affordable beauty product for those looking for a mothers' day gift on a budget, but don't want to comprise on quality or natural ingredients. A stylish boxed gift set, this natural Verage beauty kit includes a a cleanser, toner, moisturiser and hydrating serum. Verage is an exclusive system of natural skin care products that nourishes and hydrates the skin and reduces the visible signs of ageing. Each product is composed of true gifts from the Earth:harnessing powerful plant extracts, emollients, and the purest essential oils on our planet, providing your skin with everything it needs to stay younger for longer
.
To purchase any of the above gifts please click here or fill in here and we will take your order .